Intro
You may be technically challenged but that's no excuse. Follow along, do the work and you may be surprised at the results.
This site is a resource for artists and the business of their art.

Business
Helpful web design articles and videos
---
How to use Filezilla to put files on your web server:
---
How to install WordPress
Creative
Recent art and art videos



Speed watercolor painting of Puffin
How to tear watercolor paper
Here's a short video of my first attempt at tearing heavy watercolor paper. Tearing the 300# watercolor paper gives you a deckle (rough)edge rather than a cutting the paper and getting a  crisp edge.
I found that it takes a little bit of muscle to tear the paper. You can wet the edge to soften it and make it easier to tear.
---
#Puffinfun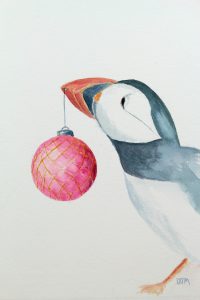 I decided to break out of the scenes studies and do a few paintings that are light hearted and whimsical. The inspiration comes from the comical nature of puffins who inhabit some of the remote ocean islands in Maine and elsewhere. I have a strong feeling that the best art should tell a story and evoke an emotion.
---
Maine Lobster Buoys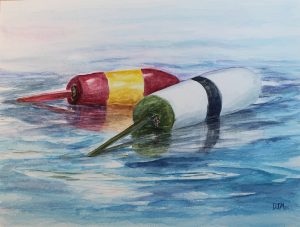 I've been wanting to work on a different way to paint water in watercolor. These lobster buoys seemed like the perfect subject for the watercolor.
---
Last hybrid Dahlia of 2016!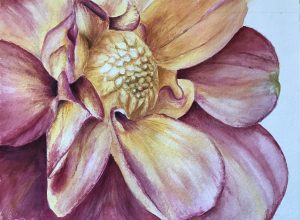 I've always admired closeups of plants and flowers so I thought I'd give it a try! I took a photo of our last Dahlia of the season (2016), enlarged and framed it on the computer screen and took a screenshot to use as a reference photo. I love doing all of the rounded petals.
---
The Great Blue Heron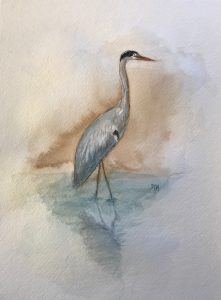 This is a watercolor that I did before going to work one morning. It was a morning following a failed painting the night before of the same subject. I decided to not try the background of trees and grasses but to only  have a faded, soft look. I think it works quite nicely.
The reference photo is one that I took in the everglades in Florida back in January 2015.
---

I've tried using the Micron .5 pen and really enjoy it. The challenge for me is to keep it from looking childish or too simple. I thought I'd give it a go on this photo that I took a couple of years ago in Wiscasset, Maine. I decided to frame up closer than I normally do.
Wiscasset, Maine is a wonderful place to visit with old architecture and a rich history.
While you're there, don't forget to try a famous lobster roll at Red's Eats, a meal at Sarah's Cafe or bring home a homemade jam from Maine Forgotten Recipes on the pier.
Materials:
Canson 140# watercolor paper
Winsor-Newton tube paint
Micron .5 black pen.
---
---